Wisdom of Solomon
Networking and building in Ancient Israel.
King Solomon reigned over the kingdom of Israel during its golden age. He commanded tribute from Israel's neighbors, expanded Israel's borders, built roads and fortresses, and kept the peace within the land. His merchants filled the kingdom with exotic goods such as spices, ivory, apes, and peacocks. Perhaps most famously, Solomon also built the Temple in Jerusalem, a golden place of worship lasting hundreds of years.
Wisdom of Solomon is a 1-5 player worker placement game taking place during the reign of King Solomon. Players act as governors for Solomon, sending out workers to gather resources, build structures, and expand Solomon's influence in the kingdom. The player who curries the most Favor will be crowned the winner!
Wisdom of Solomon is a competitive worker placement game taking place in ancient Israel. Players must maximize the use of their resources to gain the most favor of all.
Learn the regions of ancient Israel and the contents of the Temple while playing the game. Thematic Bible verses are found on all of the Fortune Cards.
1-5 Players

Adaptable Solo mode

30-75 Minutes to Play

Ages 14+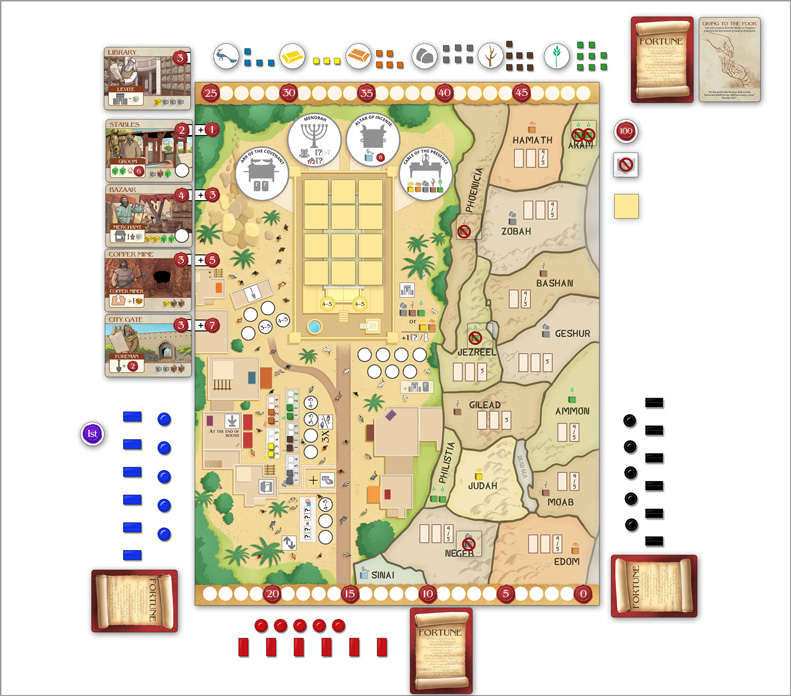 1 Large Map of Israel
100+ Wooden Tokens and Cubes
50+ Playing Cards
50+ Cardboard Tiles
1 Cloth Tile Bag
1 16-Page Rulebook
"The gameplay of this is fantastic. This is a game I have played with people that people that are interested in the Biblical theme and who couldn't care less about a Biblical theme and everybody I have played with has greatly enjoyed this game."
"This is a great game! If you're the kind of family that loves empire-builders and worker placements, you have a lot to enjoy here."
"I really enjoyed every aspect of this game."