Purim is now available to preorder, order today to receive a copy when the games reach the US! Estimated delivery is October 2023.
The Book of Esther describes the harrowing events of a young girl and the fate of the Jewish people. In the game of Purim, the villainous Haman has been put to death, but his murderous plan lives on through his ten sons. You and your team of players control a the loyal messengers of the King and Queen, tasked with putting a stop to the hatred infecting the empire and securing peace for the children of Israel.
Purim is a 1-4 player cooperative card-management and area-control game. Your team of players must work together to spread the King's proclamation to all the far-flung provinces of the empire. At the same time Haman's ten sons are trying to orchestrate the destruction of the Jewish people by spreading their false messages. Players win as a team by having their good message overpower the false messages spread in each province on the board.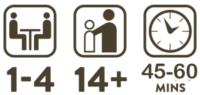 Free shipping in the US.
$30 shipping anywhere else in the world